IPv6 and Tech-Smithy.com

Tech-Smithy.com Certified for IPv6, and Certified to Provide IPv6 services and consulting.
Internet Protocol Version 6 (IPv6) is the communication substrate to be used on the Internet. IPv6 will be needed because of the explosive growth of the Internet, as the 4 Billion addresses that are available in Internet Protocol Version 4 (IPv4) in use today are running out. The current projections indicate that we will run out of IPv4 addresses around June or July of 2011, though some requests for IPv4 addresses are already being denied by the numbering authorities. Check out the IPv4 Exhaustion Counter on the right side of the page, or the IPv6 / IPv4 meter for Tech-Smithy.com below.
Tech-Smithy.com understands that our customers will eventually need to be able to serve their websites over this new Internet communications software. We take connectivity to both the existing (IPv4) and the new (IPv6) Internet for our customers services very seriously, and as such, we have tested and certified all WMS applications for use with IPv6 and the new Internet, while ensuring that everything will still work with IPv4 during the transitions.

That being said, there is still some cause for concern with simply deploying IPv6 on an existing Domain name. (eg: YourCompany.com). For that reason, Tech-Smithy.com is working with customers on their specific accounts and enabling IPv6 communication where appropriate. Often this takes the form of a secondary website address such as the one used by Tech-Smithy.com called IPv6.Tech-Smithy.com. If you are a Tech-Smithy.com customer and are interested in making your website available to potential customers on the "New" Internet backbone, please contact your sales associate or Sales@Tech-Smithy.com.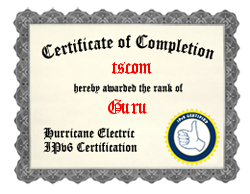 In addition to the certifying the Tech-Smithy.com applications we have also worked through training and certification courses to ensure that we are able to assist our customers in transitioning their services over to the IPv6 Internet.

For normal customers, this will include allocating and assigning new address space for servers and applications. Tech-Smithy.com is also happy to configure IPv4 / IPv6 Dual-Stack, or IPv6 Native deployments on routers, switches, and servers. We are also happy to assist customers with software deployments, software migrations, and / or vendor management where it concerns IPv6 (or any other customer needs).


Please contact Sales@Tech-Smithy.com if you have any needs in the IPv6 space, or if there is anything else that Tech-Smithy.com can assist you with.



IPv6.Tech-Smithy.com

Tech-Smithy.com
---
Join Today:
Register Today
Users of Tech-Smithy.com have access to special areas of the site.
---
Click here to
Login
---
Latest news